Looking to purchase a well maintained Recreational Vehicle? Look no farther than Southeast Arizona RV Rentals. We have RV's for Sale. Quality Pre owned Motorhomes and Travel Trailers.
Why Purchase a motorhome for sale from Southeast Arizona RV Rentals? Because unlike many priately owned units that just sit and rot, Our units are routinely maintained. Call us today to discuss the bargain only we can offer.
Motorhome Routine maintenance
includes but is not limited to:
Maintaining the Engine Cooling System, Oil and Air Filters, Ignition system, Fuel system, Transmission, Drivetrain – Driveshafts, carrier bearings and differential fluids, Brake systems, electrical systems to include alternator, ac to dc converters, solars charging systems, and battery fluid levels. Thats all as expected if you were just buying a car, but were talking a recreational vehicle which is so much more!
Other Sytems
Both motorhomes and travel trailers have multiple systems that require routine maintenance. These include : Generators (oil, air, ignition and electrical output of 115vac @ 60Hertz), Television antennas (lubrication of elevation gears), signal boosters, Flatscreen TV's, DVD players, and signal switching gear (antenna, dvd, cable tv), Roof top AC units (condensor and evaporator cleaning, motor and fan lubrication as well as air flow testing), Solar and AC to DC converters and GFI's, Smoke, Carbon Monoxide and Propane leak detectors. Propane systems to include overfill prevention device's (OPD) and propane regulator pressure checks as well as checking for leaks throughout the propane system. Stoves and ovens, Hot water heaters (propane ignition and electrical heating elements), Furnaces (ignition and airflow), Refrigerator sysyem (propane and AC modes), Slide Outs – (lubrication and couplers) Slide out seals, Water systems – Storage tanks, one-way check valves, and electric water pumps. Sewege tank level meters and drain valves.
Then there are light fixtures, water fixtures, and monitor pannels, not to mention drawer glides, hinges and latches. Yes there are alot of things on a recreational vehicle that require maintenance.
Not sure if an RV Purchase is right for you? Check out our rentals and give the rv'ing lifestyle a try before you buy. Click HERE to find your rental from Southeast Arizona RV Rentals and Storage
UNITS CURRENTLY FOR SALE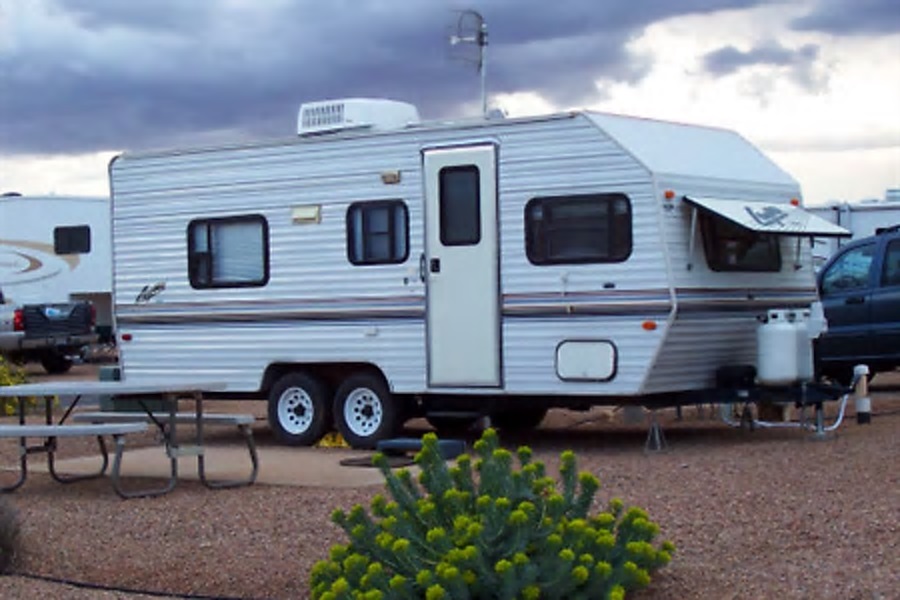 NADA Valued at $4800, this RV has a new AC unit, the roof has been treated/recoated, the electrical system – Battery charging circuit has been upgraded to solid state technology, faucets have been replaced, A new Direct Spark Ignition Hot water heater installed, A Electric Tongue Jack installed, Excellent tires with warranties, A new hand flush toilet, The waleter lines throughout the trailer have been replaced and updated. A newer Deepcycle battery, It has a 2 way ( propane or AC electric ) powered Refridgerator, a 3 Burner Stove top, oven, and microwave. A propane Leak detector, much of the interior lighting fixtures have been replaced. Incorporates two axels with electric brakes. The trailer has a 30 Amp electrical connection. There are two sleeping spaces – the main bed and the dinnette – they are both FULL Size beds.
Although an older unit it has been well maintained. It is rustic with fully functional systems. This trailer is considered a back woods model typically used by hunters and fishermen.
Fresh water capacity is 42 gallons, Black waste is 38 gallons, Grey water waste is 38 gallons, has two 7 gallon propane tanks.
The GVWR is 6160 pounds. The dry weight (actual weight of the trailer) is 4175 pounds, The trailer comes with Load Equalization system lessening the hitch weight from 550 Lbs to approximately 385 lbs
Contact Paul at 877-728-5778
144 total views, 1 views today