Looking to purchase a well maintained Recreational Vehicle? Look no farther than Southeast Arizona RV Rentals. We have RV's for Sale. Quality Pre owned Motorhomes and Travel Trailers.
Why Purchase a motorhome for sale from Southeast Arizona RV Rentals? Because unlike many priately owned units that just sit and rot, Our units are routinely maintained. Call us today to discuss the bargain only we can offer.
Motorhome Routine maintenance
includes but is not limited to:
Maintaining the Engine Cooling System, Oil and Air Filters, Ignition system, Fuel system, Transmission, Drivetrain – Driveshafts, carrier bearings and differential fluids, Brake systems, electrical systems to include alternator, ac to dc converters, solars charging systems, and battery fluid levels. Thats all as expected if you were just buying a car, but were talking a recreational vehicle which is so much more!
Other Sytems
Both motorhomes and travel trailers have multiple systems that require routine maintenance. These include : Generators (oil, air, ignition and electrical output of 115vac @ 60Hertz), Television antennas (lubrication of elevation gears), signal boosters, Flatscreen TV's, DVD players, and signal switching gear (antenna, dvd, cable tv), Roof top AC units (condensor and evaporator cleaning, motor and fan lubrication as well as air flow testing), Solar and AC to DC converters and GFI's, Smoke, Carbon Monoxide and Propane leak detectors. Propane systems to include overfill prevention device's (OPD) and propane regulator pressure checks as well as checking for leaks throughout the propane system. Stoves and ovens, Hot water heaters (propane ignition and electrical heating elements), Furnaces (ignition and airflow), Refrigerator sysyem (propane and AC modes), Slide Outs – (lubrication and couplers) Slide out seals, Water systems – Storage tanks, one-way check valves, and electric water pumps. Sewege tank level meters and drain valves.
Then there are light fixtures, water fixtures, and monitor pannels, not to mention drawer glides, hinges and latches. Yes there are alot of things on a recreational vehicle that require maintenance.
Not sure if an RV Purchase is right for you? Check out our rentals and give the rv'ing lifestyle a try before you buy. Click HERE to find your rental from Southeast Arizona RV Rentals and Storage
UNITS CURRENTLY FOR SALE
FOR SALE:
JAYCO J-FLIGHT TRAVEL TRAILER W/OUTDOOR KITCHEN
Lightweight, Queen Bed, Kitchen Island, Outdoor Kitchen, Includes FREE Awning use.
---
You can cook up lots of Grub for all the cowpoke! The outdoor kitchen includes a BBQ Grill, stovetop, sink, folding picnic table, camp chairs and an Ice chest. 28′ living space 32′ tail to tongue. It has a private master bedroom with a real queen size bed and flipable 32″ TV. The living room and dining area have a large slide out with a large Dinette and comfy couch. Both the dining area and couch convert into sleeping areas. Ducted A/C throughout as well central propane heat. The large refrigerator works off of electricity as well as propane. The bathroom is large with a bathtub/shower combo as well as a stand alone vanity. This is a very nice and comfortable travel trailer that is easy to tow. We include distribution hitch as well as anti sway. Rear Bath Room, Front Bedroom, Travel Trailer with Slide-Out Living Room, Couch, and Dinette.
Also has a Kitchen Island and Outdoor Kitchen with Fridge, Sink and Stove.
The Dry Pull weight is 6455 Lbs with a Tongue weight of 725 which is lowered with our included Weight Distribution Hitch gear.
The WATER CAPACITY IS A GREAT BIG ~ 82 Gallons Fresh (Twice the capacity of most Trailers)
Grey waste water capacity 78 Gallons, Black waste water capacity 39 Gallons
Interior Height is 81 inches ~ Exterior Height =135″ with AC unit
Exterior width = 96″ Cargo Capacity is 2795 REAL SIZE QUEEN BED 60″ X 80″ (Most RV's have shorter/narrow Queen beds) Sofa Bed 42″ X 60″ Dinette Bed 44″ X 60″ TV/DVD is Flipable ~ can be viewed in Living Room OR Bedroom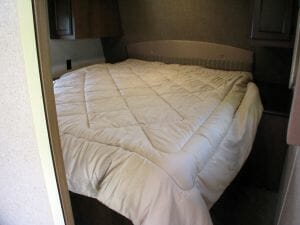 ---
2013 Itasca Sonoma Class A Motorcoach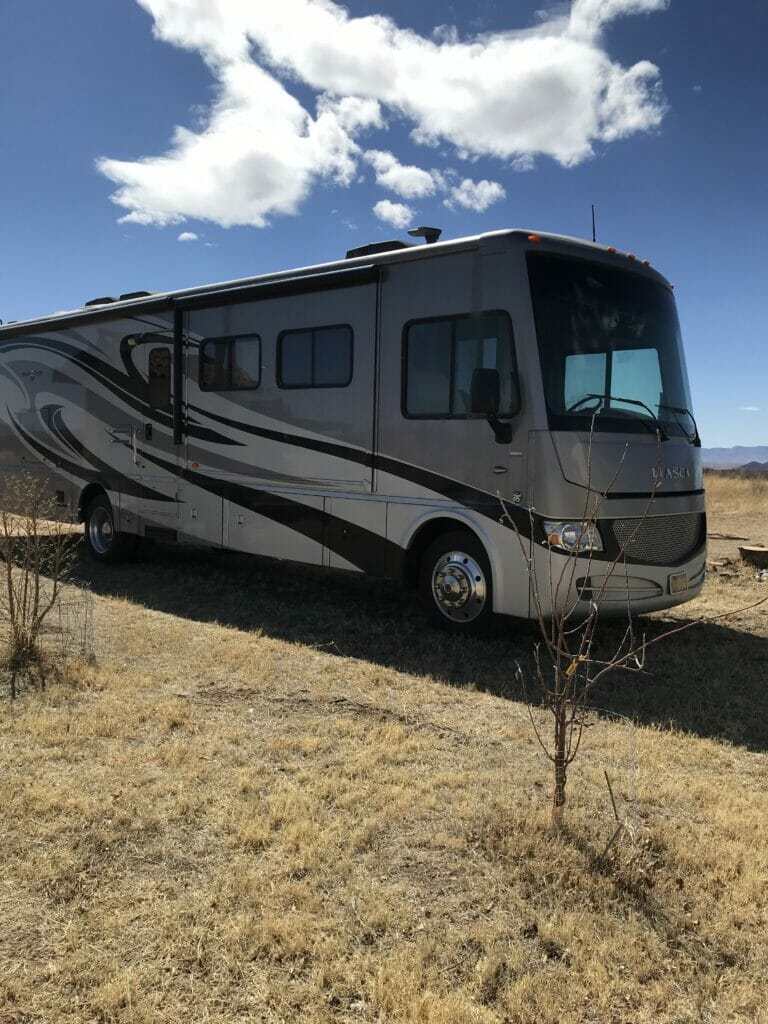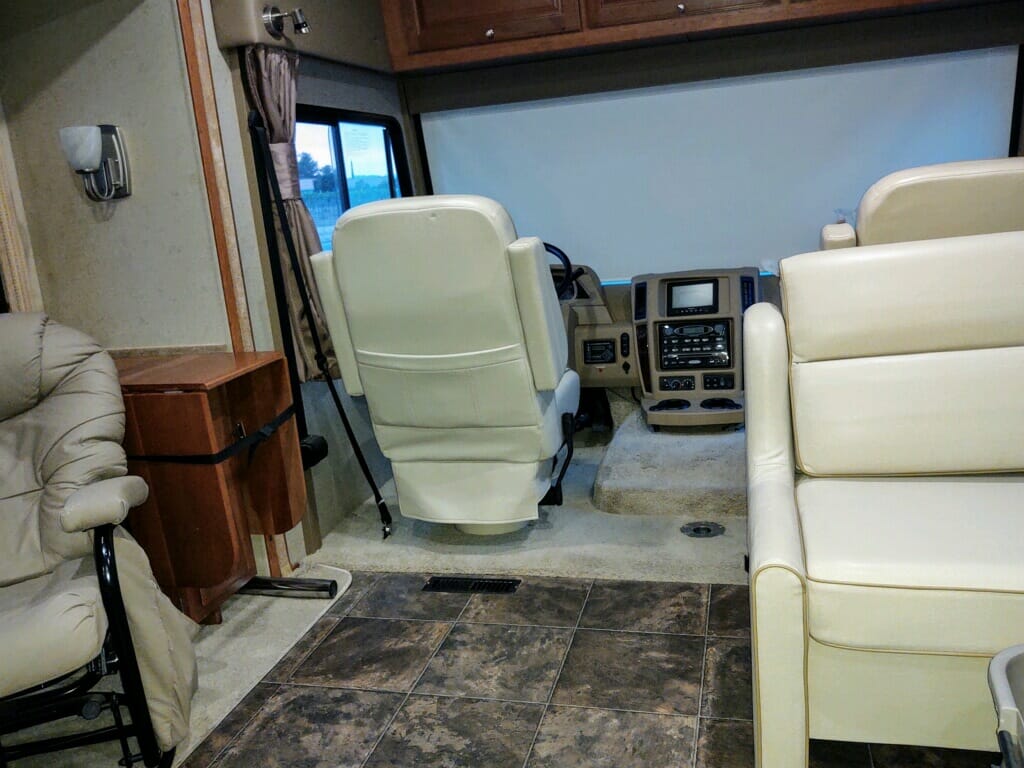 SOLD:  Winnebago Itasca Sunova Series M-35G-Ford Class A Motorcoach .  Like New ~ Only 7360 original odometer miles and 140 hours on generator.
Exterior dimensions: Overall length is 36.4 foot, 12.5 foot
Powertrain/Chassis: Powered by a Triton V-10, 362 horse power 6.8-liter Gasoline engine coupled with a Torq Shift 5 speed Automatic Transmission with overdrive, on a Ford Super Duty Motorhome specific chassis. All Hydraulic Disc Brakes, and equipped with a smooth ride over a 19 foot wheelbase. NEW Toyo 235/80R/22 Tires (Date code March 2021)
Capacities: Fuel 80 gallons, propane 18 gallons/76 pounds, Fresh Water 90 gallons, Grey 50 gallons, Black 38 gallons. 50Amp Service with 1000 Watt Inverter. 22000 GVWR with a 5000 pound towing capacity capable of up to 500 pounds tongue weight.
Interior Dimensions: Wide Body 8.46 foot, Interior Height 6.67 foot.
Equipped with Three power slide-outs with topper awnings, a 17 foot electric awning with protective metal wrap, LCI Automatic Leveling jacks, 5.5KW Onan gasoline generator, two way electric/propane refrigerator with Ice maker (Large 4 Doors), 3 burner propane cook top, Microwave/Convection oven, Leather seats, sofa and recliner, Electric Fireplace in Living Room, Master bed is King size with ideal rest digital comfort mattress with remote, Queen size sofa conversion bed, Three Televisions ~ Living Room 40" w/DVD, Bedroom 32" and outside 20". Split bathroom with Porcelain Toilet and Large Glass Door shower, a stackable Washer/Dryer, electric entry steps. Outside Shower and entertainment center, Rearview camera system with Side view cameras, powered front window sun & and blackout shades. Two roof top Air Conditioners with heat pumps, 40,000 BTU Furnace, 10 gallon DSI Hot Water Heater, High Definition power boosted Antenna, portable Winegard Satellite TV Dome, Jensen Stereo with interior/exterior speakers, Exterior Astro-turf rug, Snap on Tire shades/skirts, water hose & filter + Sewer drain hose with support.
Living Room – Very spacious with opposing slide-outs. Horseshoe sofa with built in recliners
Bedroom – Slide-out, King bed and wardrobe cabinets
Bathroom – Slit design with pocket & privacy doors.
TO VIEW – Schedule an appointment between 7am and 4pm by calling PAUL @ 520-249-9840. Absolutely NO TEXTS or Solicitations. Come see it for yourself and MAKE AN OFFER!
Please don't bother to call to ask questions about the coach that are already described above. YES these are CURRENT PHOTOS
PRICE NEW: $142,697
CURRENT AVERAGE RETAIL : $109,861
NATIONAL LOW RETAIL: $91,195
OUR ASKING PRICE: $80,000
Come see it for yourself and MAKE AN OFFER!
2018 Keystone Hideout Trailer M-26 RLSWE
ASKING PRICE IS $21,950
SOLD
This Trailer is in Like New – Excellent Condition! Although the Model number is a 26RLSWE the Actual length is 31 foot. This is a Bumper Pull unit with two axels and a Dry weight (The weight youd be towing if the trailer were empty) of 6,585 lbs. The payload capacity is 1240 pounds (this is the weight of what you can add up to the limit of what the trailers axels can handle safely) , and the GVWR 7,825 Lbs ( the total weight with the trailer fully loaded). Hitch Weight is 825 Lbs , however the unit has been retrofitted with a HUSKY Ts Centerline Load Equalization and Anti Sway System. Weight distribution works to distribute the tongue weight of a trailer up to the front axle of the tow vehicle so that it will sit more level and handle/brake better.
This is a "lightweight" Aluminum framed trailer. There are Two Entry doors. It has one Large slideout in the living room that houses the Couch and the Horseshoe Dinette. It has a Power Tounge Jack and Power Awning. There are four corner scissor jacks. The primary flooring is Vinyl with the slideout consisting of a carpeted flooring. There is a Large Queen Island Bed up front, A horseshoe Full size Dinnette Bed, and a Full size Sleeper Sofa Hide a Bed. The bathroom has a large shower, toilet and sink.
There is a central vacuum system, The kitchen has a dual powered refrigerator (AC or Propane), 3 Burner Stove Top with range hood, Microwave and a conventional Oven, and two basin wash basin. The hot water heater is also two way (ac/Propane). There is central 12,500 BTU AC and 30,000 BTU Furnace. The living room has two Recliners and a Flat Screen TV with DVD Player, radio, CD player. The AC/DC Converter is rated at 55 Amps and the Deep Cycle Battery is a Larger series 27. The unit has a built in High Definition TV Antenna and is also equipped cable ready. There are both interior and exterior speakers.
Fresh water capacity is 43 gallons, Black waste is 39 gallons, Grey water waste is 39 gallons, has two 7 gallon propane tanks.
Rules for sale of this vehicle are 1st buyer to place earnest money of $2000 down holds it for up to one week in which time the balance must be paid in full.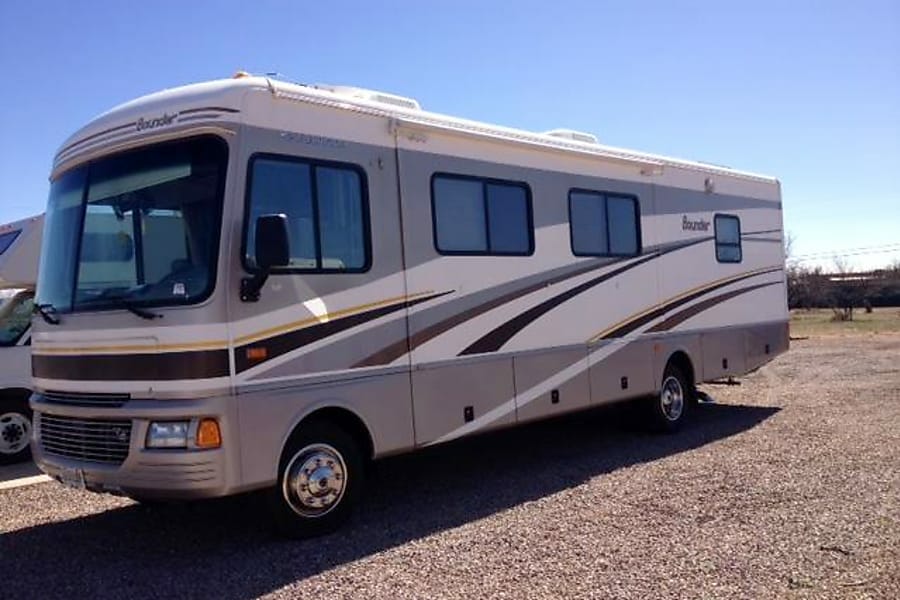 2005 Fleetwood Bounder Class A Motorhome Model 32W
SOLD
Asking Price $23000
SOLD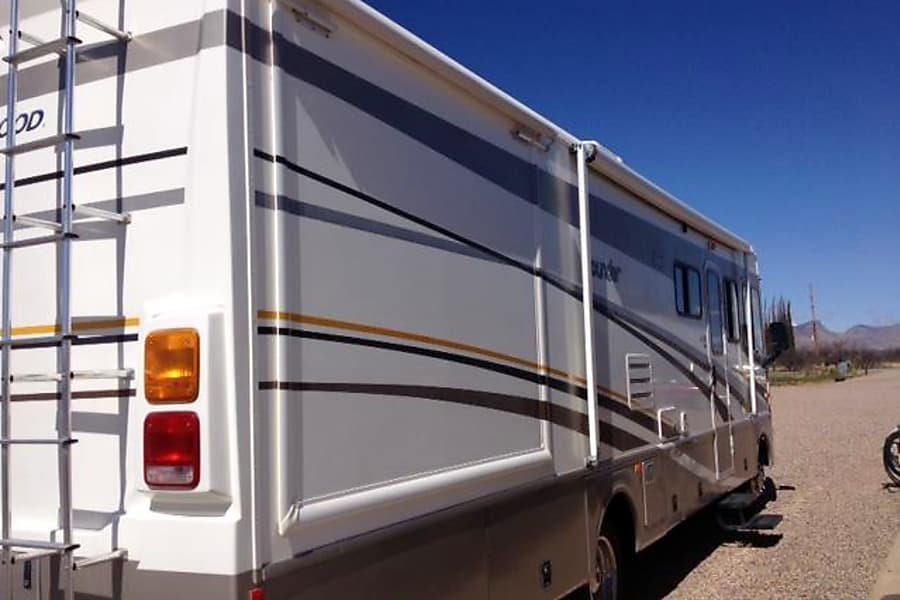 This is a 32 Foot Class A Motorhome. No special license is required to operate it . It has Two Slides, 8.1 Liter Gasoline coupled with 5 speed Allison Transmission on a WORKHORSE CHASSIS. Boasts 340 Horse power, 455 ft lbs or torque @3200 rpm. This is the Upgraded longer lasting drivetrain & Chassis. Rear Queen Bed, Dinette and Couch both convert to Double Beds. 50AMP Smart service ( can run on 30 amp) 5000KW Onan Marquis Generator, Two new Roof top AC units, Furnace, Refrigerator, Stove, Oven and Microwave. Two basin sink with wand spigot. The layout diagram shows the size of the beds. Mileage is 114,000 miles (this is considered LOW mileage for the engine/tranny combination in this RV) according to the "North American Dealers Association" Likewise this vehicle is being offered below NADA Value which is rated at $27,000
ENGINE = Chevrolet 8.1 Liter Vortec V-8, 340 HP, coupled with an Allison 5 Speed Transmission on a Workhorse Series Chassis with Cushion Air Glide Suspension.
Fuel Capacity is 75 Gallons, Fresh Water capacity is 100 gallons, Grey water capacity is 58 gallons, Black water holding capacity is 42 gallons, Propane tank capacity is 25 gallons, water heater is direct ignition with 10 gallon superheated capacity. 145Amp Alternator. Onan Emerald 5500 Watt Generator!
Fully Automatic Leveling System, Filtered Water System, Flat screen color TV with Stereo sound in living room, DVD, Microwave/Convection oven, Refrigerator, Generator, Heating, Large shower, QUEEN BED in bedroom, FULL size Jacknife SOFA BED, and Full size Dinette bed. Plenty of storage space. Comes stocked with linens, cookware, camp table, lawn chairs and BBQ grill. Great Fuel Economy & Power in a Large Luxury Coach! Operates on 50 or 30 Amp, 2 Roof Top AC Units, DVD player. Bath has large shower, toilet room and vanity. Basement storage. 55Amp AC to DC Power Converter with Dual Battery Deep Cycle House Batteries for longer service when dry camping.
Powerful 8.1 Liter engine – even on the steepest mountain passes, Outdoor Shower, and Extra Large Awning*. There is an inverter powered outlet in the bedroom for CPAP users.
New ~ Not original Two Coleman High BTU roof top Air Conditioners, Cab AC Compressor and rinser dryer, Deep Cycle and Automotive batteries, Kitchen and bathroom faucets, LP Regulator, Toilet, Awning Fabric, Slide out awning toppers, Back Up Camera and monitor, Brake Shoes, house water pump, bedroom lamps, cargo door latches.
Comes with complete set of owners manuals
Rules for sale of this vehicle are 1st buyer to place earnest money of $2000 down holds it for up to one week in which time the balance must be paid in full. Call and make an appointment to view it.
You may VIEW A VIDEO AT https://www.youtube.com/watch?v=_mcTrcQ3Bcg&feature=emb_logo
This unit has been very well maintained ~ previously part of a rental fleet.
Contact Paul at 877-728-5778
1,285 total views, 1 views today